Problems with Fuel Cells!
---
What are the problems with Fuel Cells?
Difficult to store and distribute.
You don't have a hydrogen pipeline coming to your house!
You can't pull up to a hydrogen pump at your local gas station!
This problem is addressed by a device called a reformer. A reformer turns hydrocarbon or alcohol fuels into hydrogen, which is then fed to the fuel cell. These reformers aren't very good and the hydrogen that comes out of them is not pure, and this lowers the efficiency of the fuel cell.
Some of the more promising fuels are natural gas, propane and methanol.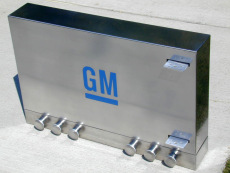 Home Page